Complete Web Strategy
Do you need to set up your online presence from scratch, on the web and on social networks? We'll think about it!
In 2023, having a website is vital. By now, the website for your business, whatever it is, is no longer a plus, but a minimum requirement. Online presence is crucial to reach as many customers as possible, to communicate your message, convey news and establish yourself as an authority in your industry. We at Stolas Informatica know this very well and are happy to put our many years of experience in web development at your disposal. Blogs, corporate or personal sites, eCommerce, eLearning portals and even communities. What do you need?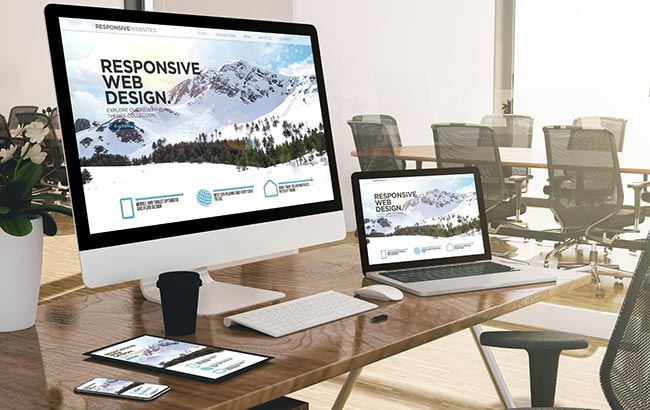 Why do you need a professional and responsive site?
Whether you are a business owner or a freelancer, in 2023, having a professional and responsive website, which fits well on all devices, is essential.
In fact, a well-made site allows you to organize information in an easily usable way for your users. Visitors will have everything they might need available within a few clicks. Social presence should never be confused with a well-structured web portal: target, communication and content should be diversified. Your website must convey authority and professionalism.
A modern and attractive website will be able to multiply the turnover exponentially of your business. At worst, the site is a landmark that strengthen your brand, makes the company or project more credible and will help you settle how authority in your industry.
The importance of Social Networks
Our smartphones are windows that are always open to the world. Our worlds are made up of friendships, affections and, since the advent of social media, also companies, shops, professionals. Being on social networks today means having constant access to the attention of your current or future customers.
Especially the new generations, more than the previous ones, expect a direct dialogue with brands and their commercial activities. They expect to be heard and entertained with content that provides information, but in an engaging and interesting way for them.
By accepting this need, companies that are positioned on social networks can create deep bonds with their customers, and this will ensure that they will always choose their services or products, because they will feel trust and confidence.
And the advertising campaigns?
Social presence, especially if strategic, is like move your shop to an extremely busy square with new customers.
Using social media strategically means attract attention of these new customers, distracting them from your competitors.
Adding advertising also means that the crowded square will be dotted with signs that will all point in the direction of your store. It will then drive traffic to your products or services.
With the right advertising campaigns, whether through Google, Facebook + Instagram, LinkedIn or other channels, you can reach your target, conveying the true value of your offer to them.
We are ready to help you grow in 2023
Book your 30-minute free consultation to find out what we can do together.